EP, Extended plays: A little longer than a single, shorter than a full-length LP (limited play). Who titles these things anyway?
Alas, these days, EPs can be whatever the creator wants them to be (see Sufjan Steven's hour long opus "All Delighted People" EP). But here is the rundown of some of my favorites from this year!
6.)
The Last Bison - Inheritance EP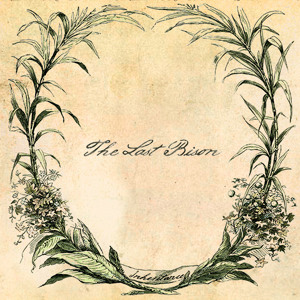 By rearranging and rerecording some songs from their debut "Quill" and adding a few new songs, The Last Bison (formerly just Bison) has crafted an engaging little EP here. I'm not sure if these folk rock bands are coming out of the woodwork on the coattails of Mumford and Sons or if people are just recognizing what was always there to enjoy. I hope the latter. Either way, The Last Bison is not to be cast in the shadow of another. Their original Americana indie folk is quaint and lush, while occasionally aggressive, but always captivating. Listen
HERE.
5.)
All People - Communicate EP
If absolutely in need of classification, I guess I would toss All People's "Communicate" in the punk/dub/funk/reggae rock genre. It is a lot of things, especially fun and fearless, reminiscent of recent RX Bandits or even their more eccentric offshoot The Sounds of Animals Fighting (but with more structure). These eight songs groove nonstop, with some sexy organ work to keep the pace moving. I find my whole upper body just jamming back and forth to the dub sections, until they launch into a more punk beat, perfect for a little headbanging. Check this EP out by downloading for
FREE HERE.
4.)
See You In Mexico - The Doomed Traveler EP
Ryan Leavelle's See You In Mexico came out with a grand EP this year, and it completely did not garnish enough attention. Luckily for you, I'm bringing it to you right now. As the title suggests, the songs follow the story of a doomed traveler "trying to make his way home during the cold of winter. He was sent on a mission to find out what happened to a failed expedition crew, and upon discovering their unfortunate fate, swears revenge on the General who sent them all to their death." It's got an acoustic indie folk vibe with some rich violin and cello to layer in heaps of turmoil and emotion. Download
FREE HERE.
3.)
Wayfarer - The River EP
Wayfarer claims their art is to "repurpose hymns and spiritual songs." Now, that is a pretty lofty goal when the source material is timeless in lyric and melody, sung by millions of people the world over. Well, luckily, Wayfarer truly takes these five worship songs in new directions, fresh and completely engaging ways. They would draw comparisons to Fleet Foxes in their dreamy folk quality and maybe the Beach Boys in their heavenly harmonies. If they continue to arrange known songs to make them sound new again, I think Wayfarer can have a strong career ahead of them. Download
FREE HERE.
2.)
Geology - The Neighboring Sea EP
Greg Jehanian (bassist, mewithoutYou) released "The Neighboring Sea" EP this past year, and it hit the spot for me. It is a seven song set of soul searching, hints of spiritual undertones, and plenty of lo-fi goodness. The opener "The Neighboring Sea" is actually kind of raucous for Jehanian's acoustic side project, with some kicking drums that echo in space. My favorite is "House of Love" which is a simple anthem to be free of the things that will crumble and fade away and cling to love, which remains forever. He records all the instruments himself, in his bedroom, generally on his laptop, and the results are uncanny in quality. Check it out
HERE.
1.)
Buried Beds - Small Stories EP
Buried Beds is the definition of a hidden gem. They are a band that has floated just under the radar for far too long, known in their native Philadelphia but making few waves outside of there. However, their "Small Stories" EP blows away many of the full-length albums released this year. I have listened to it more time than I can count, plus it comes accompanied by a short music film (which I've also watched too many times). The songs and film transport me to summertime, fireworks, barefoot picnics, and memories of growing up. It is a indie chamber pop nostalgia-fest at its finest. The band is in top form, including a drum circle ("1000 Acres") and the smoothest harmonies ever ("Children of the Sea"). I can't say enough good things about this EP. Just listen and let your troubles sweep away in the lovely jams. You can buy the EP
HERE
(totally worth it) and watch the film the songs were recorded from
HERE
.
NEXT UP: FULL LENGTH ALBUMS OF 2012! STAY TUNED.